Providing Minnesota Couples With the 7 Tools and Techniques of Effective Premarital Counseling in Order to Make Marriage Last
"40-50% of marriages end in divorce, the rate is even higher for subsequent marriages."
– American Psychological Association
"Why Should I Consider Premarital Therapy in MN?"
When couples are getting married, I'd say that none think they will be in the staggering number that gets divorced. With most couples approaches to marriage, the fact that half of all marriages ending isn't surprising at all. Marriage is one of the most complicated personal relationships that a person can have, and premarital counseling helps us to learn how to navigate that complexity.
In order to succeed at marriage we need to be masters of emotion, verbal communication, body language, anger management, empathy and understanding. These are skills that all couples can develop, and these are skills that unfortunately almost no couples learn before getting married. It is the equivalent of trying to climb a mountain with no prior preparation, tools or advice.
Marriage counselors can predict the future end of a relationship with 90% accuracy. [1]
It is surprising that more people don't seek any kind of premarital counseling, especially considering that in this day and age marriage counseling has become more of a science than an art. The Gottman method (of which I am trained) is able to predict which couples will eventually divorce to a 90% accuracy! It is all too easy to tell which couples will divorce based on watching how they interact for at least 10 minutes. Sadly, many couples are doomed to divorce without knowing it.
Essentially, Premarital Counseling Works!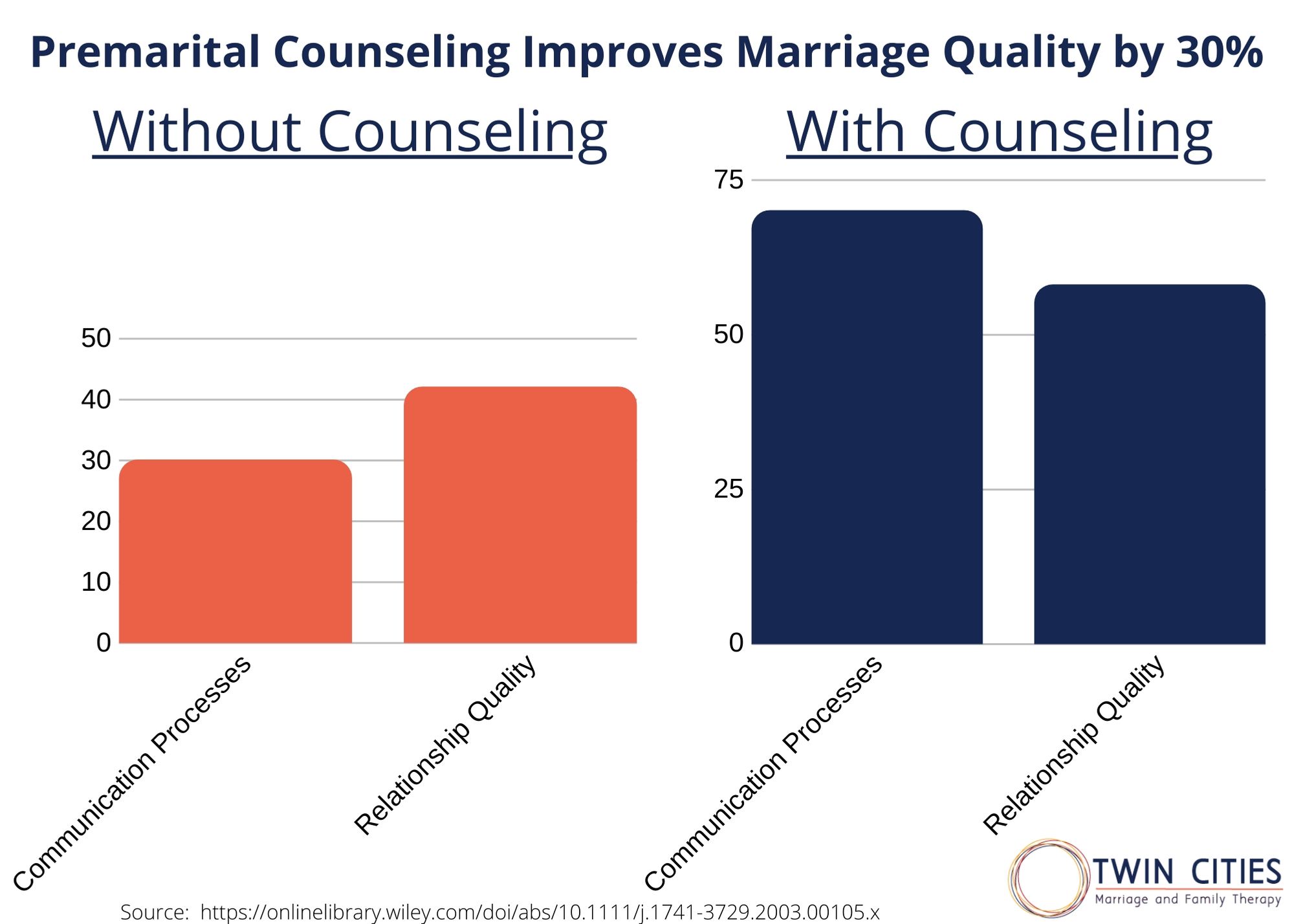 In a study done by Jason Caroll and William Doherty, and looking at over 25 different studies of the effectiveness of premartial counseling, 2 groups were studied, one who underwent premarital counseling and one without.  They found that marriage quality was improved by an average of 30% for those who underwent premarital counseling. How much does a 30% improvement in marriage quality mean to you? How many better days is that in the lifetime of a marriage?
If you could knowingly prevent your relationship from ending by learning what potential causes are, would you want that knowledge?
Learning as much as you can about your partner and your relationship before your marriage is what can save you the price of feeling like your life and love has been wasted. Not to mention the financial cost of divorce (and even before that the average wedding costs $30,000). Everyone deserves to know if they have the tools to make their relationship last.
What You Learn With Premarital Counseling At Twin Cities Marriage and Family Therapy
1. How to Communicate in Married Life
Communication forms the foundation of our relationships. Communication, in many ways, is key. But the way that most other marriage counselors think of it is too simplistic. The truth is that communication alone, won't save a marriage. It is the other aspects of our marital lives that keep us together and happy, that's why when seeking premarital counseling, steps 2-7 on this list should be a part of any program. Communication isn't the only factor for successful relationships, but it is the first step. That's why we developed our Sail Technique for couples communication. 
2. How to Approach and Appropriately Resolve Marital Conflict

In many ways this goes hand-in-hand with communication, but it is important in its own right. Many couples seem to think that there is a certain amount of conflict that is right with any relationship. Perhaps you have seen family or friends who have no conflict at all, but remain distant. Some couples fight all the time in public but have a rich and fulfilling relationship. On the surface this doesn't make sense, but the fact of the matter is that it isn't how much we conflict but how we conflict.
On this point, we usually get couples started about thinking about communication with our "gentle start to conflict" exercise. You can get a sneak peak of this in our SAIL resource. 
3. Learn How to Build Emotional Intimacy
Most people only think about intimacy in regards to their sexual relationship, but true intimacy is being able to be vulnerable – emotionally, spiritually and physically – with your partner. Intimacy is something that is always evolving in relationships, and if you're not paying attention to it, you may find yourself feeling resentful, ignored, alone, etc.
4. Deal with Spouse Specific Issues: Addiction, Past Trauma, Financial Problems
Know your weaknesses to make them your strengths. Any issue you, personally, have faced in your life can be part of your strength that allows you to grow exponentially. If you haven't shared any significant issues from your past, now is the time. I help couples talk constructively about their checkered pasts and how to turn their biggest flaws into their greatest strengths!
5. Develop Better Trust


Trust is like the stock market – it rises and crashes (often many times daily). It's well known that if you're not paying attention to your stocks, you're not maximizing your gains. Same with trust. If you're not intentional and aware of your trust levels, you're susceptible to a major crash. I'll teach you key ways to take control of trust in your relationship and not rely on shortcuts that will cost your relationship in the future.
6. Discuss Physical Intimacy
Yes, sex, but not just sex. What do you enjoy physically, and just as important, what does your partner enjoy? What leaves you feeling fulfilled? If you haven't found a way to talk about sex and other physical affection, we'll help you be setup for the best physical relationship possible.
7. Define Marital "Roles"
We all have expectations that we bring into a marriage, especially about roles. The catch is, we're often not aware of some of those expectations. This tends to lead to resentment and other prickly emotions (which usually come out in passive, indirect ways). Start right by starting with clear expectations and develop a shared meaning about what your role is in the marriage!
Sign Up for Our Minnesota Premarital Counseling Today!